With humble origins that date back to 2007, Dubai-based Empire Aviation has grown to become one of the largest aviation asset management companies in the Middle East. The group's team of over 150 aviation specialists, oversee a global network that has grown past the confines of the UAE and reached into other markets, such as Oman, Hong Kong, Nigeria, and India.
AVB caught up with Empire Aviation Group's director of Sales, Scott Glenn, who shed light on the group's progress over the past year, beginning with some of its newly-minted service offerings.
"As the company has grown and evolved and seen needs in the marketplace, we have added services to meet those demands," explains Glenn.
"We are first and foremost an asset-focused organisation, but we have seen a need to become a Continuing Airworthiness Management Organisation (CAMO). To put into simple terms, it is our job to make sure the aircraft is legal to fly."
Once offered as part of its management operation, Empire Aviation is now able to contract and oversee maintenance work not only for client aircraft within its portfolio but also as a standalone in-house service.
Over the past year, the aviation asset management company has also worked diligently to expand its portfolio of aircraft. Though tight-lipped about new customers and aircraft, Glenn was able to share that Empire Aviation recently secured for sale, a Boeing 737 VIP, a long-haul private jet configuration, as well as a Dassault Falcon 7X. Plans are in the works to add an additional three to four aircraft by the end of the year.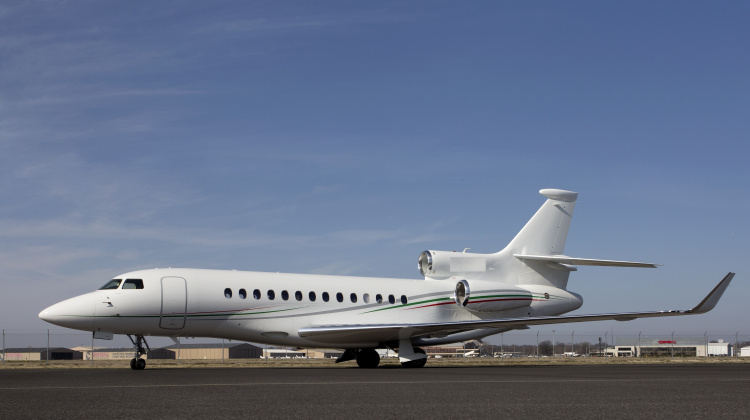 Switching gears to the current state of the region's private jet market, Empire Aviation's director of sales shares enthusiastically that the market has turned a corner as of late and as a result, holds new opportunities.
"For the first time since 2007, we are in a stable market. As an aircraft sales professional, it is refreshing. Basically, the inventory levels that we are looking for is between 8 - 10% of the worldwide fleet for sale and we are at 9%. That is the lowest it has been since 2008," explains Glenn.
Elaborating further, he explains that back in 2013, the figure reached as high as 17.5%, and this left far too much available inventory within the market. This, in turn, led to sellers undercutting the price and as a result, the market suffered.
"Good aeroplanes that have good pedigrees and are well-maintained, are starting to hold their value or at least come to the normal depreciation schedule. Those aircraft, when they reach the market, they are selling, and they are doing so in a respectable time-frame," adds Glenn.
While the Middle East continues to be an important region for Empire Aviation, the group has also made progress in expanding its footprint in both India and Africa, particularly in the case of the former. The maturity of the market and its aviation infrastructure has prompted the aviation asset management company to step up its efforts in India.
"India is an exciting market … we see tremendous opportunity in India that is why we have invested time, money and resources, to really grow our business within the country," says Genn.
"In Africa, especially Western Africa and Nigeria, we've seen an uptick in activity. At one point in time, we had eight aircraft in Nigeria, though it is down to three. But it all starts with conversations and we are starting to have some of those talks with clients. We are optimistic about the future of Africa."
Overall, the director of sales expects 2018 to be a fruitful year for the group. While Empire Aviation has over the last five years averaged between eight to twelve transactions a year, Glenn shares that for the current year, the group hopes to sell up to 15 aircraft.
In terms of which countries within the GCC region continue to serve as hotspots for aircraft sales, unsurprisingly, the UAE and Saudi Arabia remain the biggest players. Though quick to point out that in terms of global ownership, US holds the largest piece of the pie with 50% of all the world's business jets based there, Glenn maintains high hopes for the group's UAE operations.
"I see a tremendous amount of growth potential. You look at the city of Dubai, it is a microcosm. What the city has been able to accomplish over the last 15 years, they had a vision for the future and they built it. I see only growth potential and not just here — all across the region and particularly in Saudi Arabia," he concludes.