There is an overwhelming gap between the demand and supply of inflight internet connectivity, both in terms of provision as well as quality. Inmarsat has been working to address the discrepancy, and Aviation Business spoke with Ben Griffin, MEA Regional Director, Inmarsat Aviation on how the industry can address the gap before full-fledged connectivity becomes a reality.
It's evident that passengers would pay for inflight Wi-Fi. But why are most airlines still not equipped to provide Wi-Fi?
Demand for onboard Wi-Fi is rapidly growing, but adopting the technology is a big decision for airlines and doesn't happen overnight. Moreover, the embodiment of the equipment onto aircraft is complicated and requires the necessary certification – it is not an overnight process and equipped fleets with many aircraft can take months or even years. Inmarsat's GX Aviation offers much higher speeds than has ever been experienced inflight before and airlines are taking note of the benefits it can offer. Many of the world's leading airlines are in the process of adopting our inflight connectivity services, including Deutsche Lufthansa Group, International Airlines Group, Qatar Airways, Air New Zealand, Avianca, Singapore Airlines and Norwegian Air Shuttle.
In the Middle East, carriers are investing heavily in inflight broadband technology. Qatar Airways is the first Middle East megacarrier to adopt GX Aviation, with its service due to go live later this year. This trend is set to continue with two thirds of airlines in the Middle East expected to operate connected aircraft by 2019, according to a report published ahead of the Connected Aircraft Conference in 2017.
Also, inflight connectivity on airlines that do provide it is often sub-par. Is this because of technological limitations or is there a limit to the demand that prevents from airlines investing in high speed connectivity?
Although inflight Wi-Fi has been available for airlines for some time, the quality of services on offer hasn't been up to scratch. This is not due to lack of demand - the findings of our recent survey reveal that there is unanimous demand for quality inflight Wi-Fi across the globe with 60 percent of all passengers believing it is no longer a luxury, but a necessity.
Technology has now been brought up to speed with passengers' expectations, and as a result airlines are investing significantly to bring high-speed services to their customers. GX Aviation is world's first global, high-speed inflight broadband service from a single operator, and went into commercial service earlier this year with launch partner Lufthansa. The service provides an on-board connectivity experience to match broadband services available on the ground, allowing passengers to browse the internet, stream videos, check social media and more during flights.
Some airlines like Emirates charge by capacity, while others such as Lufthansa have a different pricing model based on the distance a flight will travel. Is there evidence to suggest which one customers might prefer and why?
Willingness to pay for inflight Wi-Fi varies across different pricing models, which are set and managed by the airlines. However, attitudes to paying for inflight connectivity across different markets and passenger groups gives the greatest insight into where the market is going in the near future.
Our recent study found that those happiest to pay for inflight Wi-Fi globally are passengers aged 25-34, parents travelling with children and passengers travelling in Asia Pacific and the United States. We also found that almost half (45 percent) of all passengers globally would rather pay for inflight Wi-Fi than use free onboard entertainment, showing that for today's passengers, access to Wi-Fi is becoming the inflight service of choice - regardless of the pricing model.
What is certain is that the pricing model will continue to evolve to meet the demands of the passengers–it will not remain static.
How can low cost airlines get on board with inflight connectivity given the clientele they cater to?
Low cost airlines don't just fly low cost passengers–they fly many types of passengers including those with a propensity to spend on value added services, such as connectivity.
In terms of how the operational costs are distributed, inflight connectivity pricing models are set and managed by the airlines themselves. The pricing model is key to ensuring both return on investment and affordable services for passengers on low cost airlines. In addition, inflight connectivity will drive ancillary revenues for airlines in the future, and this will offset the initial cost of installation for low cost airlines. One example is that it opens up the possibility of developing the duty-free cart into an online marketplace for flyers, with the ability to collect purchases at the airport or have them delivered home.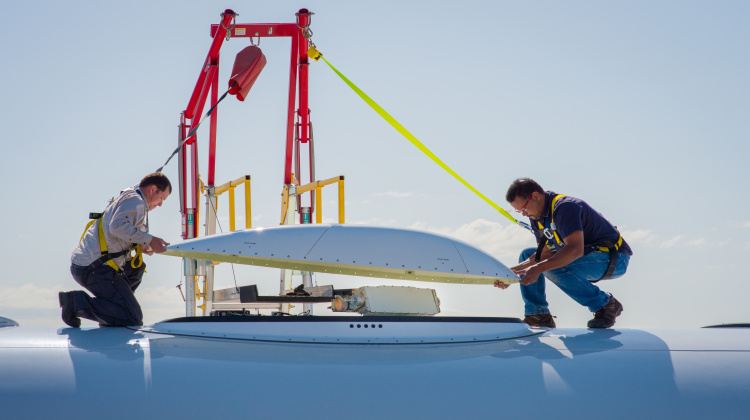 Far from being simply another cost for the LCC market, IFC actually enables a whole new platform for service to passengers that can drive ancillary revenues and opportunities beyond those that are available today.
How does Inmarsat help guide airlines on which connectivity solution to outfit their aircraft with?
We have an entire team that has been assembled to offer the most experienced consultative approach to airlines available in the market. This allows Inmarsat to address the exact requirements of the airlines and to act responsibly in matching the relevant products and services to those requirements
Many of the IFC suppliers in the market today have a very rigid technical and commercial offering. Inmarsat's approach is more flexible.
This is mirrored in the way in which we built and evolve the GX Aviation network and also in the way we have built and designed the EAN for Europe's aviation market. This illustrates exactly how we understand and adapt for the market, rather than expect the market to adapt, as others may do.
Airlines such as Emirates have invested tremendously in inflight entertainment services that would otherwise require high bandwidth connectivity. How could such airlines couple their existing offering with increased, but also more expensive, connectivity?
The connected world is evolving; airlines with a rich IFE offering are being pressured into moving into a multiple distraction cabin where IFE simply isn't enough for today's passengers. Despite some passengers taking refuge in air travel being the last place to remain unconnected, this is a diminishing demographic as more and more people demand constant connectivity to drive the apps that are used every waking hour on the ground.
The trend appears to see some level of interactivity between IFE usage and IFC activity, which will surely increase over time. The prevalence of IFC may well see a change in the way that IFE is delivered, especially in short and medium range aircraft; a connected aircraft has the necessary infrastructure to deliver content wirelessly, so why invest many millions in seat-back IFE systems that require ongoing spend on maintenance and support?
Our recent survey found that 61 percent of passengers globally who have experienced high-quality inflight Wi-Fi believe it is more important than onboard entertainment. The ways in which passengers make use of their time in the sky is changing, and with 44 percent of respondents stating that they will stop using their preferred airline within the next year if quality inflight Wi-Fi isn't offered, the availability of inflight connectivity will be key to attaining high rates of passenger satisfaction and loyalty in a hugely competitive market.
*http://www.getconnected.aero/2017/02/middle-east-airlines-connected-airc...