Since entering service six years ago, the GEnx engine for the Boeing 787 Dreamliner and 747-8 aircraft has earned its fair share of accolades, including outstanding reliability, fuel burn and performance.
The GEnx introduced a lot of firsts — the first composite fan case, the first commercial lean-burn combustor, the first advanced titanium aluminide or TiAl blades, and the most advanced cooling designs and material coatings. These technologies combined to create the most fuel-efficient, wide-body engine that enables operators to fly more flights, carry more passengers, fly longer routes — bringing in more revenue, while operating at the lowest cost.
The GEnx family of more than 1,500 installed engines is powering more than 540 aircraft worldwide and has accumulated more than 17 million flight hours and two million flight cycles.
According to Aziz Koleilat, senior executive and general manager of GE Aviation Sales for the Middle East, Russia/Commonwealth of Independent States and Turkey, "By 2020, nearly 2,000 GEnx engines will be in service worldwide, making the GEnx the fastest production ramp-up of a GE wide-body engine program in our history."
Of the engines that currently power the Boeing 787 Dreamliner, the GEnx-1B engine has set itself apart:
• Leading engine of choice for Boeing 787 with a 65% win rate and best-in-class utilisation.
• Best fuel burn: The GEnx-1B engine has a 2.3% fuel burn advantage on the Boeing 787 on routes of 3,000 nautical miles, and this advantage increases further for longer range missions.
• Highest reliability with a 99.96% dispatch reliability rate and a 2 ½ times lower engine removal rate than the competition.
• Fewer NOx emissions: NOx emissions are as much as 55% below today's regulatory limit and other regulated gases are as much as 90% below today's limit.
In hot and harsh environments, the GEnx-1B engine is the engine of choice on the Boeing 787 aircraft and enjoys a 90% win rate with operators in the Middle East, China, Africa and India. More than 250 GEnx-1B and -2B engines are in service in these environments and have accumulated more than 3 million flight hours. In the Middle East region, more than 300 GEnx engines have been ordered by Etihad Airways, Qatar Airways, ALAFCO, Ethiopian Airlines, Royal Jordanian, Saudi Arabian Airlines, Oman Air and Azerbaijan Airlines.
GE has made several technology enhancements to ensure the GEnx engine remains a leader in its class. For increased durability, GE improving the combustor liner, fuel nozzles and high-pressure turbine stage 1 blades. These enhancements will increase the engine's time on-wing by 30%. New on-wing repair and cleaning technologies are also being introduced to extend time on-wing and reduce fuel consumption.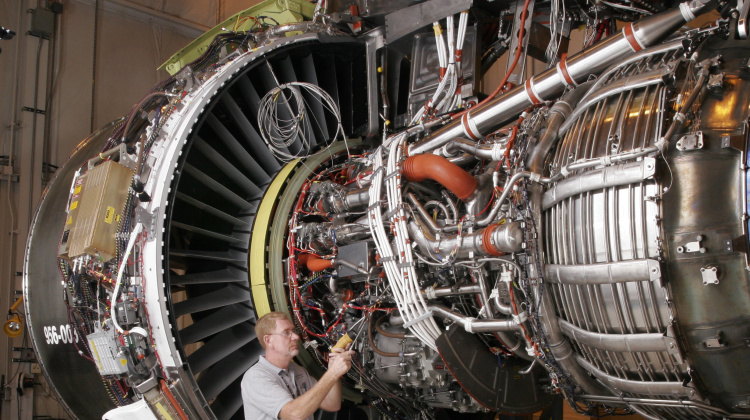 Last year, a GEnx demonstrator engine was used as part of the technology maturation program for the new GE9x engine. The engine was outfitted with a lightweight, heat-resistant ceramic matrix composite (CMC) components in the high-pressure turbine (HPT) and combustor along with next-generation HPT stage 1 blades with advanced cooling technology and lightweight low-pressure turbine titanium aluminide blades produced using a 3D additive manufacturing process. It was then exposed to the harsh environmental conditions of dust and debris. Results re-affirm GE's CMC technology roadmap and could lead to future improvements on the GEnx engine.
"Dust and debris accumulate on the external surface of the airfoils and can degrade insulation coatings. They can also collect on internal cooling circuits of the blades and nozzles and degrade the cooling effectiveness. Both factors can lead to durability issues. These demonstrator tests allowed us to obtain an accelerated understanding of how new designs and materials perform in all environments, including those prone to high airborne debris. As we look to the future, we are committed to making sure the GEnx retains its leadership position and continues its exceptional performance," said Koleilat.
GE collects more data from the GEnx engine than any engine in its history with more than 5000 data points logged per second. This unprecedented amount of data along with the know-how of data scientists and engineers helped create digital tools like the Technical Program Plan, or "TPP", that allows for more reliable engine removal forecasts to improve feel stability.
With a digitally connected removal plan aligned to engine output, GE monitors the spare engine line of balance for each of its customer across the fleet, evaluating customer spare engine forecasts more than 12 months into the future. With this information, GE is better able to prioritise inductions, material allocation and lease pool assignments.
"We are honoured to play an important role in the growth of aviation in the Middle East," said Koleilat, "And we are excited to bring our digital solutions to customers in the region to help them further their success."