Often described as one of the most complex and demanding environments to oversee and operate, airports can have at any given time hundreds of multifaceted processes running simultaneously as part of daily operations.
While the bulk of airport processes will typically fly under the radar for the majority of passengers, one thing that travellers will certainly take notice of is the cleanliness of the terminal.
Maintaining a clean and hygienic environment within an airport can prove to be a challenging prospect, particularly in facilities that operate a 24/7 service.
It's also one of those types of jobs that when done correctly, the average passenger rarely notices, but done poorly and it leaves an everlasting impression of both the airport and its host city.
Ensuring that the first and last impression at Dubai International Airport's (DXB) Terminal 3 remains a positive experience from a cleanliness point of view, has been a key focus of facilities management (FM) company Emrill for the last three years.
In that time, the UAE-based FM service provider and its onsite staff of nearly 800 employees, have delivered cleaning services for Terminal 3's front and back of house to great success.
In fact, the company garnered recognition in 2017 for achieving and maintaining a high level of safety with its operation at DXB, surpassing over 1.7 million-man hours without incident.
Rather than resting on its laurels and driven to continually advance the capabilities of its service, Emrill recently established a dedicated airside training room at the airport.
What sets the training centre apart is that not only was it established within a live environment suited for practical training, but the fact it is also accredited by the British Institute of Cleaning Science (BICSc).
"We've used some facilities that were not in use at the airport at the moment and we've created a full training room," comments Sarah Rodgers, a senior facilities manager at Emrill and lead of the FM operation at DXB's Terminal 3.
"We wanted to deliver training to international standards, so we are now accredited by BICSs … the idea behind it is that it is practical learning. We set up a training room on site, which has access to an actual washroom and an area of the airport, so it provides a live training environment for our team."
For those unfamiliar with the BICSc, it is an independent, professional and educational body dedicated to raising the standards of the cleaning industry, through education and accredited training.
With over 25,000 individual and corporate members from across the globe, BICSc collates the best practices for employee safety, cleaning, asset preservation, and sustainability.
One of the standard's signature practices is the use of a colour coding system for assigning different equipment and cleaning products to a specific area
of a site.
This not only helps FM staff to quickly identify which supplies and gear are needed to handle a clean-up on a particular surface, but it also helps reduce the risk of cross-contamination.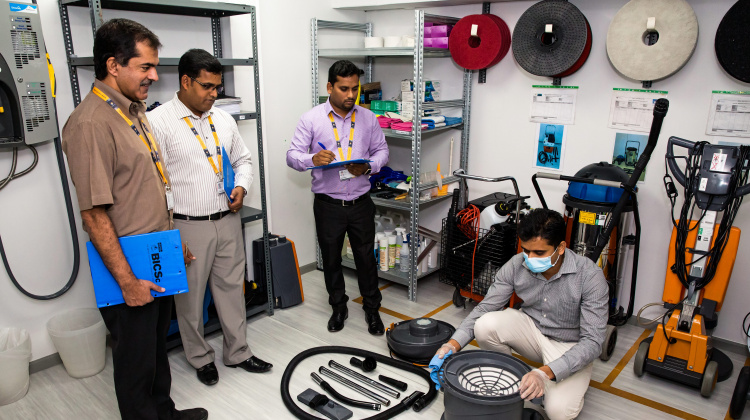 "BICSc is very practical training — it is hands-on learning. Because it is very specialised, we limit the number of people training to five," explains Rodgers.
"We do customer service training onsite at the airport. It is crucial that our housekeepers deliver excellent customer service, in addition to being able to deliver cleaning services.
"We also deliver machine operator training, which is related to the cleaners that manage cleaning machinery on site, as well as health and safety training."
Rodgers adds that there are dedicated BICSc assessors onsite, who oversee the FM provider's training regimen and are capable of certifying staff without the need to have them leave the airport environment.
According to Emrill, the ongoing training and up-skilling occurring across its infrastructure resulted in a 17% increase in internal staff promotions over the past year. As a result, the company has been able to meet its talent development, retention targets, and improve overall service delivery.
The senior facilities manager also explains why it was imperative for Emrill to establish a training room in the heart of DXB's Terminal 3, rather than utilising its already established development centre at its head office.
"Our Centre of Excellence has been set up to recreate a standard facility as it were, so the benefit of delivering training on site is that we are using the actual facilities, floor tiling, as well as the equipment and tools that will be used in that environment,"
explains Rodgers.
"Ever facility is individual, so it's really beneficial to conduct the training on site … we do try to recreate training rooms on site wherever we can."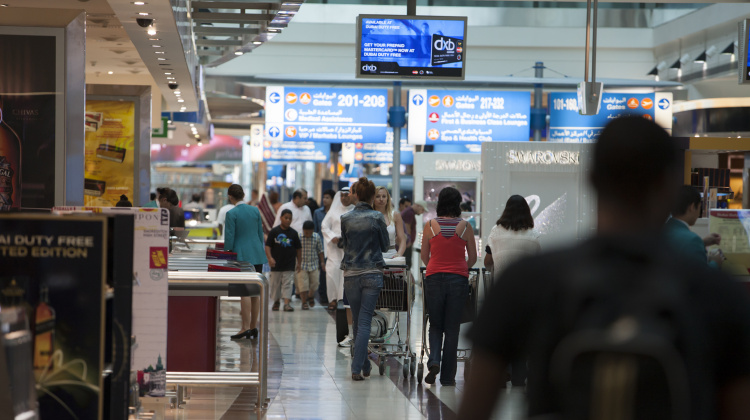 When asked how she viewed the delivery of FM services at an airport and how it compared to other facilities, Rodgers admits it is an extremely challenging environment, particularly in the case of Dubai International Airport.
Reputed to be the world's busiest airport by international passenger traffic, DXB saw over 88.2 million passengers pass through its doors in 2017. The high traffic coupled with the fact that the airport operates a 24/7 service, there isn't much in the way of flexibility when compared to other types of facilities under Emrill's care. For example, the FM team on site do not have the luxury of being able to shut down a section in order to conduct maintenance.
Another issue is that unlike other facilities where Emrill's staff can operate quietly in the background, the cleaners at DXB often find themselves face-to-face with passengers.
In these instances, they may have to field questions about the terminal, such as the location of gates, specific shops or other services. For that reason alone, the FM provider has incorporated customer service engagement into its training regimen.
Possibly the biggest challenge faced by Rodgers in her role as senior facilities manager is the everchanging work schedule, which must be flexible enough to react to sudden changes in the airport's timetable.
"The complex schedules that we have to create, obviously, have to work around the passenger loads as well … it is a constant change. With any other FM facility, we might be able to have a planned preventive maintenance (PPM) schedule that will stay the same throughout the year," explains Rodgers
"With the airport, we have to work around flights that are coming in. If there is a delayed flight, then we'll have to change our schedules because of that. If we plan to clean a boarding gate, should the flight be delayed by half an hour, then we have to change the time we clean the boarding gate."
As expected there is also the added obstacle of security. In addition to the daily screening of staff, a factor that needs to be accounted for within the schedule, cleaning supplies and equipment go through extensive examination as well. Even once through the initial checkpoint, any further movement of supplies across the rest of the facility will prompt additional screening.
While Emrill will continue to work on enhancing its cleaning operation at DXB, the FM provider is also exploring the possibility of delivering some of its other services to the Terminal.
For example, Emrill has the capability to deliver a range of National Inspection Council for Electrical Installation Contracting (NICEIC) accredited technical and hard services, to airport and aviation operators.
While not something it currently conducted to DXB's Terminal 3, the firm is ready to deliver if the need arises.
"Emrill offers a full range of facilities management. We deliver hard and soft services, which includes energy management, asset management. security services, for example. And we are currently delivering that across the
UAE in a lot of prestigious sites," comments Rodgers.
"Our aim is not just to deliver cleaning services within the airport but to try and tap into the other services that are available. Definitely something we will focus on in the future," she concludes.