The Mayor of Berlin has called for the bilateral air service agreement between Germany and the United Arab Emirates to be expanded to allow Dubai's Emirates airline to operate direct flights to and from the German capital.
Under the existing air services arrangement between Germany and the UAE, Emirates is allowed to operate to any four cities in Germany. At present, it currently operates to Frankfurt, Munich, Düsseldorf and Hamburg. Therefore, if the Dubai carrier wanted to operate direct routes to Berlin it would have to sacrifice one of its existing four successful routes.
"The government of Berlin is in favour of direct flights to Dubai," Michael Müller, Mayor of Berlin, was quoted as saying in a statement sent to Arabian Business by the Senate Chancellory of the Mayor of Berlin.
Müller (pictured below) has been the governing mayor of the city since December 2014 and previously served as deputy to the President of Germany from November 2017 to October 2018.
"Emirates has traffic rights for four access points in Germany… In practical terms, this means restricted access to Berlin, as Emirates would have to give up another German market in order to fly to Berlin. As the overall demand is growing, this would, of course, make no commercial sense. Therefore, the answer is yes, Emirates is restricted to expand their operations to Berlin," Müller added when asked if felt Emirates was being restricted in its operations in Germany.
In an interview in 2011, Müller's predecessor Harald Wolf told Arabian Business he believed the reason the bilateral air agreement between Germany and the UAE had not been expanded was due to heavy lobbying of the German federal government by the country's largest carrier Lufthansa, who did not want the fast-growing UAE carriers to get more landing slots in German cities.
"It is not our intent to formulate any accusations, but Lufthansa has clearly stated in the past that they do not want to operate long-distance flights from Berlin, and rather focus on their hub operations in Frankfurt and Munich," Müller said when asked by Arabian Business if he agreed with Wolf's stance on the situation.
"Therefore, it is obvious that operations by other long distance carriers in Berlin are not in Lufthansa's interest. In addition, Lufthansa is openly demanding the limitation of traffic rights for UAE carriers," he added.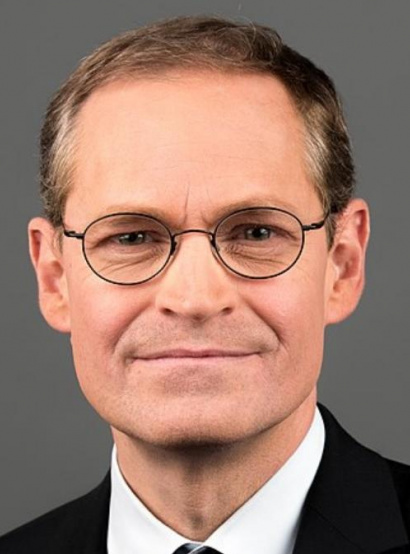 When asked for a comment, a Lufthansa spokesperson issued the following statement: "The bilateral air service agreement entitles UAE carriers to choose four destinations in Germany. For the time being, Emirates has selected Frankfurt, Munich, Düsseldorf and Hamburg as its preferences. However, if Emirates gave up one of them, Berlin could immediately be integrated into its flight schedule. That's a question of company strategy. Air service agreements are supposed to ensure an ambitious level of connectivity as well as an international level playing field including fair and balanced market access for all airlines involved."
European negotiations
Since June 2016, the European Commission (EC) has been directly responsible for bilateral aviation agreements between the UAE and member states. While there have been negotiations between EC and UAE officials over the last three years, no progress has been made in expanding the number of cities Emirates can fly to within Germany.
Müller said that a meeting had been scheduled between Emirati and EC officials to discuss the matter in January this year, but the meeting was "cancelled by the UAE as they did not see any added value in the EC proposal".
Since May 2019, the EC no longer governs negotiations over the issue, meaning any future plans will be directly between Germany and the UAE going forward.
Currently, Emirates operates about 70 flights per week to Germany, carrying around 2.4 million passengers per year, according to the latest figures for 2016/17.
"Germany is one of the most significant markets on Emirates' network, and is its second largest market within Europe after the UK," an Emirates spokesperson told Arabian Business in a statement.
"Increases in Emirates' operations to Germany have in all cases been sustainable, responding to high market demand and generating new traffic. We are grateful to the government and regulatory authorities in Germany that we are entitled to operate to four on-line points of call in Germany, but we still believe that German and international travellers could benefit from more choice and connectivity, increased competition and additional long-haul options.
"Emirates strongly believes in Berlin's impressive credentials as a profitable intercontinental market and hopefully we will be able to operate to the German capital in the future," the statement added.
Source: Arabian Business