Meeting of the sidelines of last month's International Air Transport Association (IATA) Annual General Meeting in Seoul, South Korea, AVB got the chance to sit down and connect with Martin Gauss, CEO of Latvian airline airBaltic.
The flag carrier of Latvia and a rising star within the European market, airBaltic has experienced a strong period of growth over the past couple of years, a remarkable achievement considering the financial woes it faced back in
the early-2010s.
In fact, the airline has just emerged from a record-setting year, in which it recorded for the first time in its history over $455m (EUR 400m) in revenues. At the same time, airBaltic's net income also increased by more than 40% compared to 2017, reaching $6.1m (EUR 5.4 million).
Other key figures for the year include a 12% increase in flights from 50,093 to 56,261, along with a 17% increase in the number of passengers carried from 3.5 million to 4.1 million. A study from Roland Berger, a business strategy consultant, found that airBaltic contributed 2.5% to Latvia's GDP in 2018 and supported to 30,000 jobs.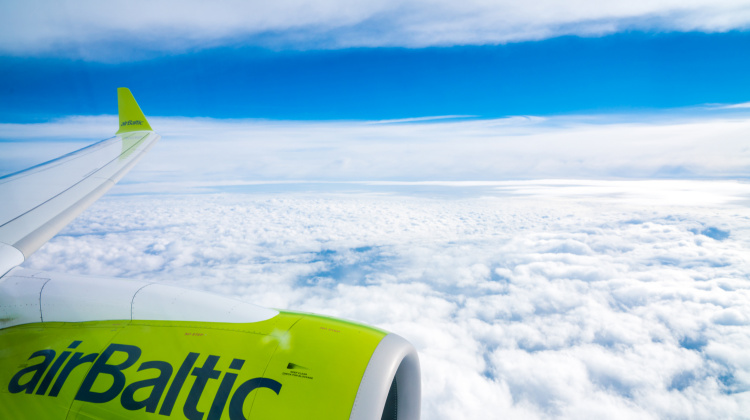 While there are a number of factors that contributed to the company's turnaround in recent years, which included a cost-cutting programme that focused on returning the airline to profitability back in 2014, one compelling reason lies with airBaltic's decision to adopt the Airbus A220-300 as its preferred aircraft of choice.
To date, airBaltic operates a fleet that includes eight Boeing 737s and 12 Bombardier Q400Next Gen aircraft but is currently in the process of transitioning to an all-Airbus A220 fleet. Receiving its 19th A220 jet back in May, it was the fifth aircraft of that type that it has received for 2019.
While another three A220s are scheduled to be added by the close of the year, airBaltic is set to cease its Boeing 737 fleet operations by this Autumn, a full year ahead of the original schedule.
"The key to our business plan, which is called Destination 2025 was to place an order for a significant amount of a single aircraft type. We placed an order for up to 80 A220-300s … we operate today 19 of these. We were the launch operator of that aircraft and we hold 71% of all European orders for that aircraft today," explained Gauss.
"The business model that we fly is that we have a full-service business class in the front of the cabin with hot meal service, beverages, dedicated cabin crew, and the middle seat is kept free. But it's the same seat as in economy. Behind the curtain, we fly an ultra-low-cost cabin.
"That's the hybrid model that we fly. It is a unique model that we operate, and we are doing well on it. We have grown over the last two year — around 20% … We are targeting five million passengers this year. By 2025, we want to reach 15 million passengers and 1.5bn in revenues."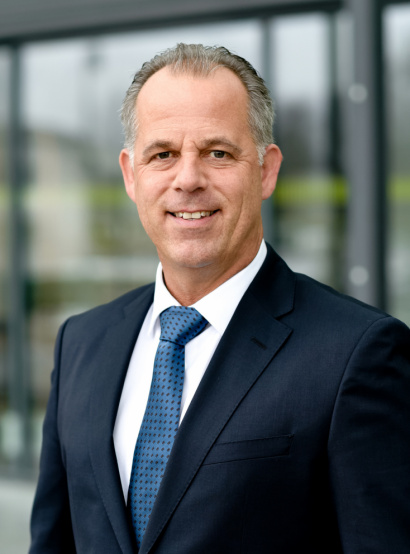 The CEO went on to add that the A220 has performed beyond the airline's expectations, delivering an improved overall experience, along with better fuel efficiency. As one of the 'greenest' commercial aircraft currently in operation, the A220 is also helping the airline meets its sustainability targets by reducing CO2 and NOX emissions by 20% and 50%, respectively.
Another big draw of the aircraft is the enhanced inflight experience from the passenger side. For starters, the narrow-body aircraft boasts ample room in its aisles, washrooms, and overhead bins, similar to what one might expect from a widebody aircraft. A moodlight system has also been deployed across all aircraft, which is a feature that is typically found on long-haul carriers.
Additionally, the middle seat in each row is designed to be the widest, providing passengers with more space to stretch out and utilise.
AirBaltic's aircraft now also features a new seat design that is able to offer 30-inch pitch, a small change that the Gauss points out is, "unusual for a low-cost environment". It is typically the case to have 29 or 28-inch pitch.
One other change to the service is the addition of a new meal pre-order menu. With an extensive selection of 70 meals to choose from, passengers travelling from Riga on the Baltic carrier will be able to order meals up to 24 hours before departure. Eight popular meal options are also available during online check-in up to an hour before departure from Riga.
The selection is wide enough to accommodate meals for a variety of dietary and religious requirements.
When asked about the airline's target growth markets and its progress, Gauss shared that just this past May, airBaltic managed to secure 60% market share in Riga, which is operated in what he described as "a hub in a four-wave structure".
"Half of the passengers that we serve in Riga are transfer passengers. Going from one destination to another and we have markets spanning all over Europe. We come all the way over from Lisbon, but then we are also taking them [passengers] to Abu Dhabi … so destinations that are longer flights, but we also have within the vicinity flights that only take 40 minutes," he explained.
"In addition, as we are in the Baltics, we have the neighbouring country Estonia, where we are also the number one carrier now with a market share of 20%, and we are number three in terms of market share in Lithuania, where we are expanding and also trying to become number one."
In terms of new destinations added to its network in the past year, airBaltic recently launched three new flights from Tallinn headed to Malaga, Copenhagen and Brussels. The fourth flight from Tallinn to Salzburg in Austria is expected to be announced in the fourth quarter of 2019, which would be the total number of direct services out of the capital of Estonia to 13.
Other new additions include a number of newly launched summer destinations from Riga, such as flights to Dublin, Stuttgart and Liv, along with Kos and Menorca.
According to the CEO, airBatlic today operates 80 routes and along with its codeshare partners, which includes the likes of KLM, SAS, Air France, Iberia, Aeroflot, Air Italia, Austrian Airlines, and Etihad, to name a few, the Latvian carrier offers around 300 destinations in its portfolio.
"We define the list of destinations by the range of the aircraft, which is seven hours. That is it. Whatever airport we can reach within seven hours, is a potential new route," added Gauss.
Switching gears to discuss the current market challenges, airBaltic's CEO shares that the chief issue amongst airlines at the moment lies with sustainability and tackling carbon emissions. Addressing this issue was one of the factors the airline considered when it selected Airbus' A220 to serve as its primary aircraft type.
In addition to the aircraft choice though, airBaltic has also invested on reducing its carbon footprint on the ground, such as maintaining an environmentally friendly headquarters on the home front, as well converting ground support vehicles to electric.
Another key issue that airlines in Europe have to contend with is the current state of air traffic control in the region.
"A big thing in Europe is air traffic control. Unfortunately, the Europeans can't agree on how to structure airspace properly, therefore we have all these delays and that again contributes to the Co2 emissions. We had 19.1 million minutes delay last year, because of an insufficient air traffic control structure, so that's another challenge we have," he concluded.