1. Rescued airlines 'are not out of the woods'
Emirates president Sir Tim Clark said that airlines which have been bailed out by governments are "nowhere near out of the woods" and must start flying meaningfully and profitably soon or face failure further down the line. Some of the world's largest airline groups, including the likes of Lufthansa and Air France-KLM, have secured state-funded bailout deals, allowing them to stay afloat during the coronavirus crisis, which has decimated travel demand and ripped out revenues.
But Clark warned that most rescue packages so far are based on the assumption that airlines will begin generating positive cash flow in the next few months. He said while governments are beginning to realise that airlines will not survive unless they are bailed out, nobody knows when the funding will run out.
"All the money that has gone into those companies is absorbing the cash obligations they have at the time. But it presupposes that you will be starting to fly meaningfully and profitably, generating positive cash flow in the next few months. Unfortunately, I don't see it to the scale that these companies need to meet their cash obligations; so we're nowhere near out of the woods."
With fleets grounded, airlines are facing a severe liquidity crisis with billions of dollars being burnt in Q2 alone. Even though carriers are beginning to ramp up scheduled flights, demand for air travel remains relatively low compared to the same time last year and so profitability is very difficult.
"It is important that governments understand – I am sure they are aware of other priorities in their economies – but this [aviation] business is at a critical and very fragile state at the moment and it needs all the help it can get," Clark said. He said that without lifelines for airlines, he is "not optimistic that some of the [airlines] that are here today, and have already been significantly bailed out, will get through the next few months".
2. Tim Clark expects return to normality between 2022 and 2024
Sir Tim Clark does not expect demand to reach pre-Covid levels until at least 2022, but possibly as a late as 2024. He believes that a global inoculation process combined with certain social distancing measures will be the key to getting demand back to the way it was, predicting that by summer of 2021, passenger levels will start to rise rapidly on short-haul and long-haul flights.
"You've got to make a stand and say 'this is what we're going to work towards', otherwise you're looking into a big black hole. You've got to come up with some kind of solution about your cash flows and hope for the best and plan towards that," he said.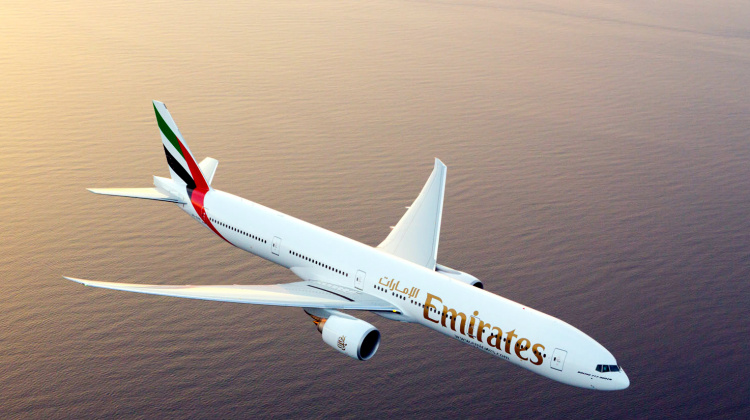 "Eventually we'll get over this, it's probably just the next six-to-nine months where it's going to be tough. I believe once we've got everybody through the inoculation process, like we did with polio, with smallpox and everything else, we will start to see things coming back to normal. And that way, by the summer of next year, we will start to see an uptick, quite a large uptick, in demand for travel, both on the short-haul and for airlines like ourselves."
Clark said that Emirates can mobilise its fleet within 48 hours and is constantly monitoring the global situation.
"I think probably by the year 22/23, 23/24 we will see things coming back to some degree of normality and Emirates will be operating its network as it was and hopefully as successfully as it was," he said. However, he believes that the industry will bounce back in time.
He added: "I'm not saying people have got short memories but they are anxious to get on with their lives, they're anxious to enjoy their lives and they all have aspirations. They may be conditioned by difficulties of furloughs and not having enough money from salaries etc. That's going to dampen demand in the short-term, but after that, once we're well into 2021, then I think things will change."
3. Emirates' cargo ops have 'kept the wolf from the cash door'
Emirates president Sir Tim Clark ceded that ramping up the airline's cargo operations in the early stages of the coronavirus crisis helped to cushion the impact of the industry-wide revenue crunch and protect liquidity. Emirates quickly started utilising its Boeing 777 passenger aircraft for cargo operations to supplement its SkyCargo freighter fleet when passenger services were suspended in late March because of coronavirus. Clark said that while the increased cargo-only flights did not make up for the loss in passenger income, they kept "the wolf from the cash door".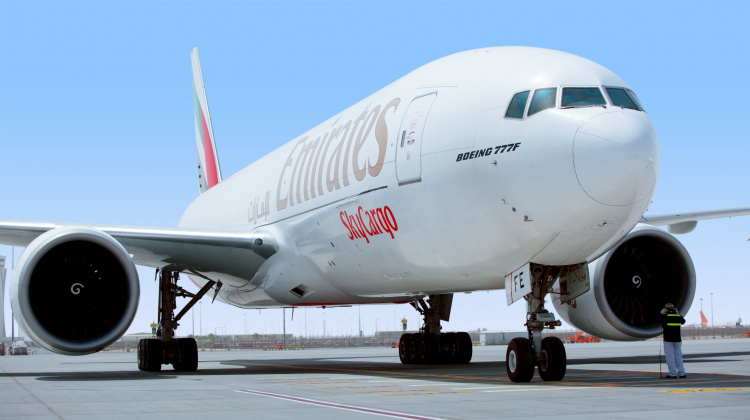 "Being the opportunists that we are, we could see by late March that with the shrinking of global belly-hold capacity and the shortage of freighters, that there was an opportunity," Clark said during an interview on Arabian Travel Market's virtual conference.
"Because we had the 777-300 ER, which is a hugely capable aircraft for both medium and long-haul operations, and because we had opted for the large cargo door at the rear of the aircraft, we were able to put 14 pallets into the hold and we'd also taken seats out etc."
Clark said that out of its fleet of 153 Boeing 777s, Emirates is currently operating 85 of its 777-300 ER passenger jets on top of its 11 freighter Boeing 777s. Emirates is trying to offset some of the costs associated with having its entire A380 fleet grounded.
"That's not going to deal with the loss of passenger income but it certainly keeps the wolf from the cash door, which is the real bugbear of the airline industry at the moment," he said. "It's not been easy but we've done the best we can to optimise whatever opportunities we get on the freight side. There doesn't seem to be any signs of it going away at the moment so long may it last."
Between mid-January and mid-March, Emirates SkyCargo alone transported more than 225,000 tonnes of cargo in total out of which 55,000 tonnes were food items including fruits, vegetables, meat and seafood, and more than 13,000 tonnes were pharmaceutical cargo.
4. 'All bets are off' on A350, B787 and B777X
When it comes to shiny new aircraft, "all bets are off", said Emirates president Sir Tim Clark, who feels that the industry is far too weak to be able to commit to large orders.  He said: "We are nowhere near confident enough that the economics, the cash flows, the bottom line will put us in a good position to be able to guess if we'll buy a hundred of this or a hundred of that."
Emirates already rejigged its plans for its new fleet structure in November, deciding to swap 30 Boeing 777Xs for 787 Dreamliners. The airline currently has around 200 jets on order, including 777s, 787s, A350s and a handful of A380 superjumbos. Emirates is seeking to cancel some of its remaining A380s on order and there is a question mark hanging over its fleet plans. While the carrier will inevitably restructure its fleet in the coming years to adapt to market trends, could we see it change its plans once again and even cut its orders?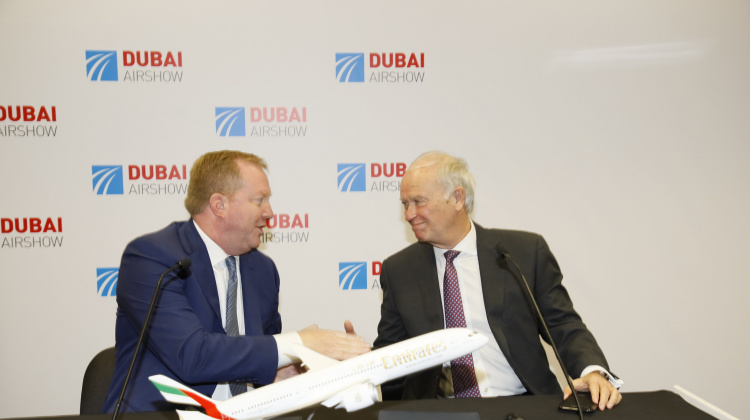 Emirates announced its latest fleet restructuring at Dubai Airshow 2019.
Clark said that aerospace manufacturers are aware of the fact that airlines are shying away from orders, seeking both deferrals and cancellations. He said that all airlines are facing "critical cash flow issues" and that businesses are having to focus on "surviving the present" instead of mapping the future. Clark added that airlines are going to have to consider their fleet mix in relation to the affordability of both new and existing aeroplanes. "We've never been here before… so you're having to rethink exactly what you priorities are", he said.
5. Social distancing on aircraft 'does not make sense'
Employing social distancing on aircraft does not make sense from an economic or an environmental sense, according to Emirates airline president Sir Tim Clark. With a tentative return to the skies, airlines are adopting new policies that protect passengers and crew from possible Covid-19 transmission, aimed at increasing consumer confidence in the embattled aviation industry. However, Clark does not believe that social distancing is an option.
"If we start leaving seats in the economy inventory open or unsold because of social distancing, one has to accept that you have to be consistent about this. There's no point in leaving the seat next to you empty because the seat behind you, if somebody sneezes of coughs, irrespective of the seat back, meant to be deflecting it, this will not happen. These will travel 20 feet down the cabin and into the air. What it basically means is that you will have to take 50%, in the case of economy, of your inventory out. It doesn't stack up for anybody to do that."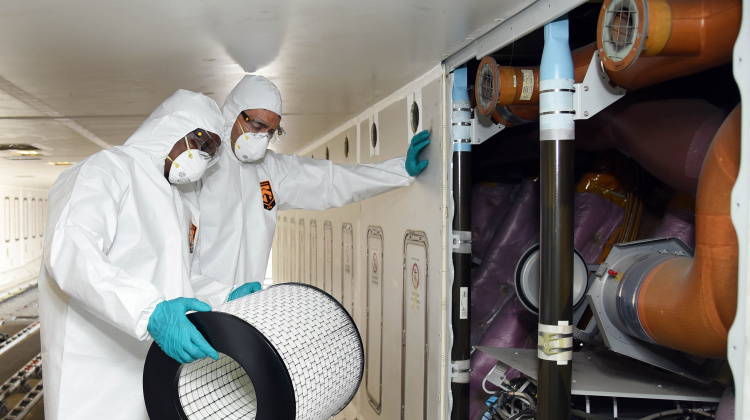 Emirates regularly changes HEPA filters on its aircraft ensuring a flow of 'clean air'.
He added: "Equally, on the environmental side, it makes absolutely no sense to fly empty aircraft or half-empty aircraft, because we're all very conscious of this."
Emirates have initiated a number of health and safety measures on board its aircraft, including presenting passengers with their own kit, which includes face masks, gloves and sanitisers, allowing them the option to further clean their seat themselves before sitting down.