Just three years ago, one of the Levant's most established airlines was scrabbling to slash its losses, which had amassed to nearly $200 million over the previous five years.
Fast-forward to 2019 and Royal Jordanian is well on the way to 'desired profitability', according to top brass. The carrier turned more than $34 million of net profit in the first nine months of this year while increasing sales and reducing costs during the same period.
Royal Jordanian's latest accounts are evidence of a – so far successful – low-cost, high-revenue strategy led by CEO Stefan Pichler. The former German athlete is known in the industry as someone capable of altering the fortunes of ailing airlines and he boasts an impressive CV.
Having helped direct turnarounds at Thomas Cook AG, Virgin Australia, Fiji Airways, Jazeera Airways and the now defunct Air Berlin, Pichler found himself on the throne of Royal Jordanian in June 2017, with a huge task at hand. It was clear that Pichler's low-cost, high-revenue strategy, which turned Jazeera's operating profit margin into the second highest within the global airline industry at nearly 26%, would need to be executed cleanly.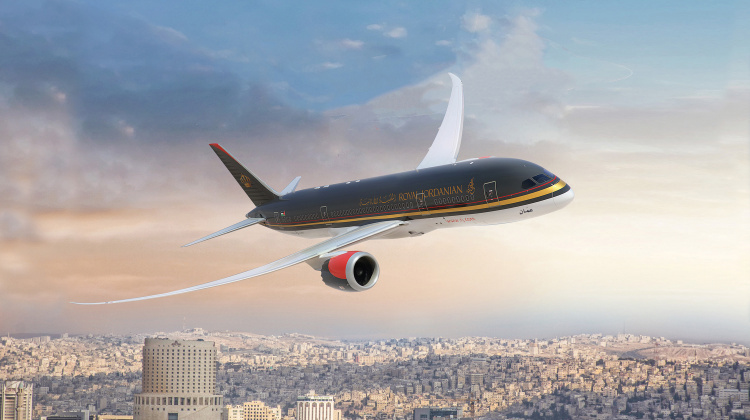 Royal Jordanian's new slogan, 'from Levant to the world', has seen it restructure its network.
When Pichler arrived at Royal Jordanian, load factors sat just above 60% and within the space of six months they had increased to 70%. Load factors have since risen by around 3%, while unit revenues since 2017 have enhanced by about 20%. The airline achieved a positive net income by the end of 2017 and according to Pichler, "turned the corner in 2018". Looking ahead to end-of-year results, he predicts that 2019 will see "solid double digit total net income". 
Key to the change-in-fortunes is Pichler's approach to airlines. The commercial aspect of the business, he says, should be treated like retail.  
"Most of the airlines have learnt from low-cost carriers. Royal Jordanian is the sixth airline that I have run as CEO. I have worked for low-cost airlines and legacy airlines and it is more or less the same. What we did [at Royal Jordanian] first was apply so-called low-cost commercial rules, which means we debundled fares, increased ancillary revenues, experimented with prices and kept driving promotions to fill the last seats in advance so as not to cannibalise existing demand. This worked pretty well so we changed the whole marketing set-up."
Royal Jordanian made headlines in early 2017, just before Pichler joined, for its satirical marketing campaign aimed at the Trump administration. But the popular social media strategy failed to sell tickets and so it was scrapped and instead, promotions were pushed.
Naturally, this strategy helped to drive all-important online sales. With relatively few people in Jordan owning credit cards or wanting to use them for online shopping, Royal Jordanian's internet transactions accounted for just 3% of ticket sales. A series of promotions and online marketing has increased online sales to 15%, but Pichler believes there is still plenty of room for growth here.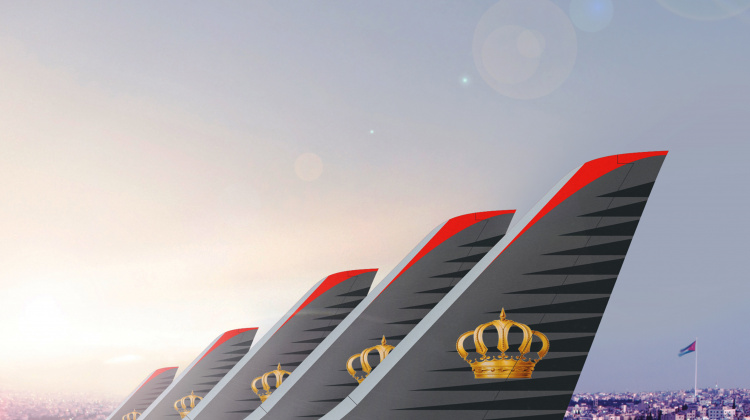 One of the airline's strategies to compete with LCCs has been to increase connectivity.
While commercial activities grew revenues, cost reduction was, and still is, a keen focus for Pichler. Over the same period in which revenues jumped 20%, unit cost production reduced by 11%. The drop was down to a number of changes, says Pichler.
"Part of it is just basic business like getting rostering right and airport costs. The other thing was that we reviewed things like crew productivity. On-board our aircraft we historically had about three cabin crew members more than we needed and now we are flying with the minimum required. That was a big driver in productivity.
"The other thing is that we realigned the business portfolio, which means we got rid of a couple of things that cannot be run profitably, like Royal Wings [Royal Jordanian's charter airline]. Then we developed things like our Royal Club loyalty programme, which is now going to make a very good profit this year because we relaunched it, remarketed it and enhanced the benefits. We can still do better but we have turned the corner."
Pichler summarises that the three key drivers for the turnaround plan are its sustainability, 20% revenue improvement alongside 11% unit cost reduction, and the business portfolio realignment. Despite Royal Jordanian's apparent evolution into an airline that borrows strategies from low-cost airlines, Pichler reminds us of the dangers of defining an aviation business model in black and white terms.
"There has always been a discussion about low-cost versus legacy and which one is better. But that is all nonsense. In reality, you have to define a business model which makes money and our business model is P&L. Full stop. It's a business, it's P&L, it's a balance sheet."
He notes that an airline's model has got to be suited to its particular region and few can operate in the same way. For example, at Jazeera, Pichler's team decided to provide free in-flight food, going against the traditional low-cost model. Jazeera's experience with Kuwaiti culture told management that complimentary food would drive load factor in the country. But this initiative would not necessarily increase load factor in other markets, Pichler states, reinforcing his message that bosses need to create a model that fits and makes money, regardless of how it defines itself. 
Even so, in adopting certain 'budget airline tendencies' Royal Jordanian is inevitably pitching itself against the likes of Ryanair and EasyJet, who represent fierce competition in Europe. Pichler cedes that Ryanair, which began operations in Jordan just last year, has a "great product" and is "beautifully managed". The Irish airline operates flights from Jordan to 18 European destinations, making it a serious rival.    
Foreseeing Ryanair's entry into Jordan, Royal Jordanian's management reacted to the Irish giant by adjusting its network. Historically, Royal Jordanian's network focused on point-to-point travel, with almost 90% of passengers flying between the capital, Amman, and another destination. Low-cost airlines seldom do connections because it can hamper productivity.
Pichler explains: "The challenge was to mitigate the risk of Ryanair and EasyJet by restructuring the whole network. Our idea is now 'from Levant to the world'. We tried to create many more connections and we restructured the hubs, which had some operational challenges. But last year, we offered 43% more connections via Amman in a two-hour window, so we enhanced connectivity. Connecting traffic has gone from 12% to above 30%, which has helped mitigate the attack from the so-called low-cost airlines."
Accompanying Royal Jordanian's network restructure has been a careful expansion into the US. The airline increased frequencies to the US in 2019, bumping profits immediately, but stopped short of adding destinations. Pichler says the carrier has to be opportunistic and ensure that any realignments make money.
"We can't just invest in something and wait for it to work," Pichler says. "Things have to be profitable otherwise I don't want to do it. Jordan is a not a country with huge resources, so [the government] cannot give us hundreds of millions to grow the airline. We have to stand on our own feet."
Looking ahead, Pichler's strategy is to continue to drive revenues and reduce costs at Royal Jordanian. Next year will be "the year of product", he says, and will see the airline review and improve its product offering. While there are still a few years to go in the airline's turnaround plan, Royal Jordanian certainly appears to be on the right track. As long as the carrier is able to navigate the challenging Middle Eastern market over the next few years, there is no reason why it cannot become another notch on Pichler's list of successfully transformed airlines.
Pichler's approach to Royal Jordanian, and indeed his other turnaround projects, is testament to the logic of basic business principles. Despite the glitz and glamour associated with the aviation industry, it is vital for bosses to remain grounded and remember that the industry runs the same as any other – on balance sheets, and not just on kerosene and champagne. Whether an airline chooses to brand itself as low-cost, legacy, boutique or even royalty, at the end of the day, P&L is always king.