Over the course of a typical working month, AVB has numerous opportunities to meet a number of notable and influential individuals active within the region's aviation sector. From airline CEOs to airport operators, pilots all the way down to the maintenance crews, the publication often crosses paths with a host of aviation personalities.
In March 2018, however, no meeting has been more intriguing than meeting young pilot Adam Mohammed Amer.
In 2017, the six-year-old of Egyptian-Moroccan origin achieved fame after a video of his visit to the cockpit of an Etihad Airways flight went viral. What captivated Captain Samer Yakhlef, the pilot of the flight that was travelling from UAE to Morocco and the one who filmed the video, is Adam's extensive knowledge of aircraft operating systems and emergency procedures.
"Some planes have a Ram air turbine. It gets emergency systems back on if the engines fail. The Ram air turbine can help to bring back the systems," Adam explained at one point during the recording.
Getting a chance to meet with the young pilot at his home in Al Ain, one can not only get a sense of the depth of knowledge he possesses, but also the enthusiasm and determination that drives him.
"When I first saw a real aeroplane and boarded it as a kid, I was very excited. It was at Abu Dhabi International Airport when I went on an A380 to Germany," Adam shares of his first memory being on an aircraft.
"It was so cool to visit the upper deck. They have a shower area and the seats can even become beds."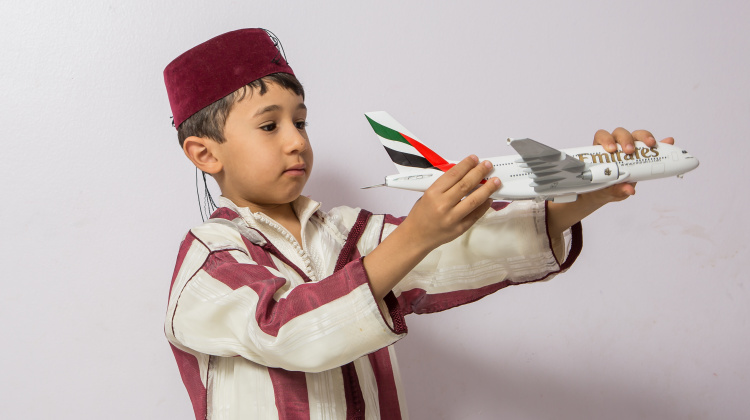 According to Adam's father, the young pilot's interest with planes first begun when he was but a toddler. As the boy grew older, he continued to be enamoured with aircraft and flight, slowly expanding his knowledge through reading and conducting his own research.
While aviation remains his primary passion, the young boy also spoke briefly of his other interests, which includes a fascination with space travel and the terraforming of Mars, as well as an interest in the sciences, particularly the field of cryonics.
When pressed on what aspect of flying he finds so engaging, Adam explains that he appreciates the technical challenges flying aircraft. Even as he spoke with AVB, the young pilot was playing a flight simulator game on his tablet, trying to see if he could land the plane with no landing gear.
Adam faced a similar challenge when he was invited by Etihad Airways to visit the Etihad Airways Training Centre to undergo pilot training for a day in one of his favourite aircraft, the Airbus A380. During the first set of simulations, Adam got the opportunity to fly the plane through an entire journey and even welcomed passengers upon arrival over the intercom.
Not content however without having a bit of a challenge, the young pilot asked if he could try out some of the emergency scenarios. In one case, Adam was challenged with landing a plane that had an engine fire.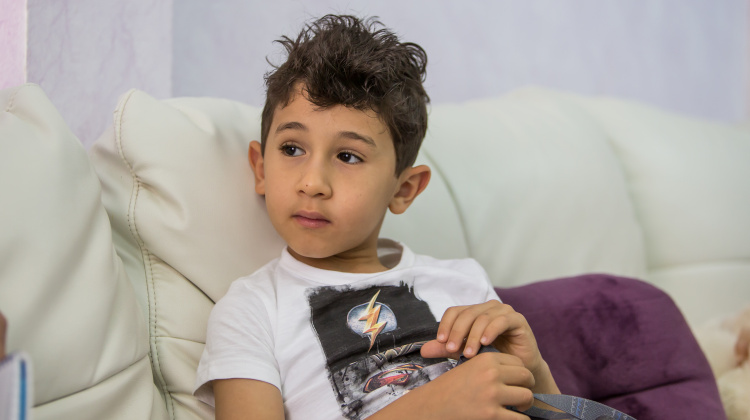 "I just managed to press the button for the fire extinguisher but it was still on fire. So I pressed it again and then I landed the plane normally. No failures," beams Adam.
Commenting at the time of Adam's visit to Etihad Airways Training centre, Captain Majed Al Marzouqi, Etihad Airways VP of Flight Operations, said, "Seeing Adam's enthusiasm reminds me of my own as a young boy, with dreams of becoming a pilot. It really is a wonderful opportunity for us to engage with the children of our community. Adam shows incredible intellect and knowledge, having learned complex operational procedures from YouTube videos. I hope he has enjoyed his day in the life of a pilot and that it encourages him to pursue his passion when he is older."
When asked about his plans for the future, Adam shares his interest to one day fly an Airbus A380 and Boeing 787 aircraft. In the meantime, however, he hopes to get another chance to test his skills in another flight simulator, as well as the opportunity to continue his studies of aviation under the tutelage of a major airline.