AVB: What are some of the improvements that Emirates has introduced in the cabin and its design that have impacted the experience of passengers?
Thomas Ney: We continually look at various details to improve the customer experience on board, whether it's a complete refresh of a cabin or small details.
One of our biggest innovations to elevate the customer experience is our fully enclosed First Class suites on the Boeing 777 which features floor to ceiling sliding doors and sleek design features inspired by the Mercedes-Benz S-Class. The suites are laid out in a 1-1-1 configuration which is a first for Emirates. We introduced the industry's first virtual windows for suites located in the middle aisle. These virtual windows project the view from outside the aircraft using real-time camera technology.
The Economy Class cabin was also refreshed with a colour palette of soft greys and blues. The ergonomically designed seats come with full leather headrests that have flexible side panels and can also be adjusted vertically for optimum support.
Last year, we also unveiled a brand new Business Class cabin and configuration on our Boeing 777-200LR aircraft, with new wider seats laid out in a 2-2-2 configuration for the first time.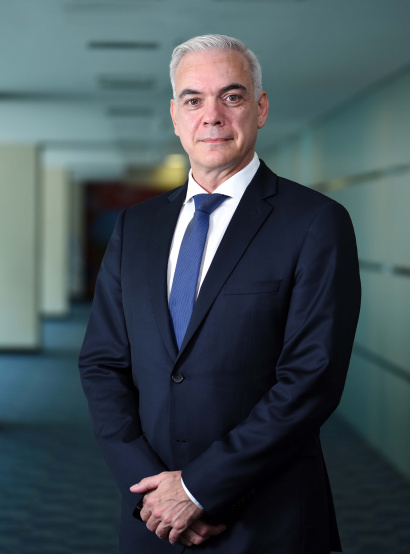 AVB: What new partnerships with luxury brands have Emirates established over the past year? From your viewpoint, how critical is it for airlines to secure such partnerships to remain competitive?
TN: In the last year, we have introduced some new luxury brands to our First Class suites. This includes the BYREDO travel wellness range of skincare in the private suites. The allergen-free and Chamomile collections were exclusively created for Emirates for a relaxing and hydrating experience inflight. These are in addition to the Bulgari amenity kits, our customers receive on long-haul flights.
We also introduced Bowers & Wilkins Active Noise Cancelling E1 headphones in First Class to amplify the IFE experience. These headphones were designed by award-winning audio brand Bowers & Wilkins and created exclusively for Emirates using a unique hybrid noise cancellation technology optimised for the Emirates First Class cabins.
Last year, we revamped our spirits offering to feature some very premium brands including Dalmore King Alexander whisky and exclusively serve the Hennessy Paradis Imperial with whom we've enjoyed a long-standing partnership.We've also been serving Dom Perignon champagnes for over 25 years and Emirates is the number one global partner. This means we receive exclusives and will be the only airline to serve the 2008 vintage onboard this year.
AVB: What improvements have Emirates introduced to its inflight entertainment system over the past year? How will Emirates evolve IFE moving forward?
TN: The last year has been focused on increasing passenger choice – more films, tv & music from around the world – in fact nearly doubling the choice available to create a good-as-or-better than at-home entertainment experience!
There are now over 4,000 channels of entertainment on the ice including over 1,000 movies – way more than any other airline.
This month, we've introduced a feature on the Emirates App to allow customers to create bespoke playlists ahead of their flight and sync it to their seats once on board. Customers can plan their trip more effectively, and maximise their onboard experience. This is really helpful with all the choice available.
All flights are now Wi-Fi enabled and over 175 Emirates aircraft are also equipped with Live TV. In 2019, more than 50 additional aircraft will be equipped with Live TV, providing even more choice for customers to watch live sports & breaking news during the flight.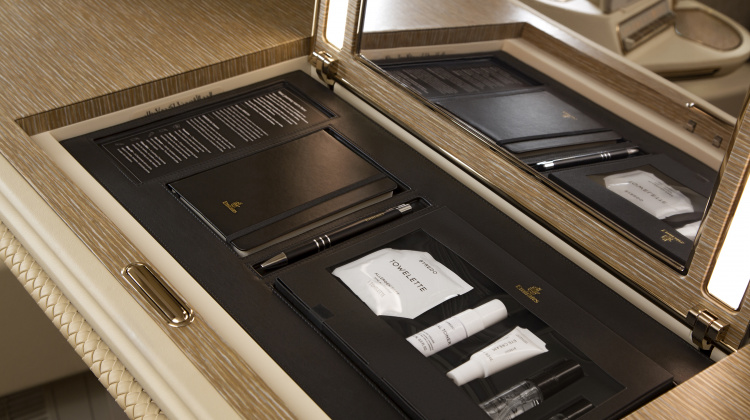 AVB: Are there any trends in terms of passenger demands while in flight that are driving the market? How is Emirates aiming to meet these trends?
TN: In addition to the above trend of people wanting more entertainment choice, inflight connectivity is also a basic demand these days. Our passengers want to remain connected at all times, which is why we've invested over $200m on connectivity so far, possibly more.  
December marked the first month where every flight operated with a WiFi connected aircraft and we saw well over a million passengers connect or about 25% of our customers.
The reason for this very high level of connected users is that we offer a free connection to all, as well as very low-cost connection options – we subsidise connectivity to the tune of millions of dollars every year.  Today, all Skywards members travelling in First Class or Business Class can connect and enjoy free WiFi the whole flight.
We're now working on retrofitting more aircraft with Live TV. We aired every match live during the World Cup last year which was very well received so we want to provide more choice for customers to watch live sports and breaking news.