Blacklane, a Berlin-based global professional chauffeur services start-up that Al Fahim Group has invested in, announced the opening of its Middle East office in Dubai this week. Blacklane also announced a deal with Emirates to exclusively take over its complimentary chauffeur-drive service for its First and Business Class passengers in India, Italy and Sweden.
The start-up offers limousines and high-end cars for airport and medium-length journeys. In January, the company raised a Series D round — from three investors, including Al Fahim — to fund product innovation and expansion to new cities.
Although Blacklane declined to disclose the amount of the investment, Crunchbase lists it as $40m. Al Fahim owns about a 10% stake.
"We've always wanted to get involved in the start-up scene, especially in the car business," Abdul Karim Al Fahim, board director of Al Fahim Group said at the announcement.
Blacklane differentiated itself through luxury, quality and service, he added, which are in line with the conglomerate's values. Of course, Blacklane's use of Mercedes cars, for which Al Fahim are distributors, helped tick all the boxes.
Blacklane serves more than 300 cities and 60 countries. Blacklane Pass, its airport concierge service, reaches more than 500 airports worldwide. In the Middle East and Africa, the mobile app serves 21 cities in 10 countries, with dozens expected to be added in the coming months.
Unlike surge pricing models of other providers, Blacklane offers visible fixed rates. It only occasionally raises prices for social events like Paris Fashion Week.
Human capital
Jens Wohltorf, CEO and co-founder of Blacklane, tells Arabian Business that the biggest hurdle to growth is finding the right people to drive the cars. "We experienced twice as many first-class bookings from this region than we do with any other region, so there's a need for premium mobility, but unfortunately supply is very limited and difficult to establish, not only in terms of vehicle quality, the right car, the right age of the car, but also the chauffeurs."
He adds: "I find that often they're a bit rude in terms of driving skills," talking about his experiences testing other services in the UAE. "They don't care about service. I also had rides where I was supposed to get a water bottle but the bottle was used."
Blacklane has a very selective recruitment process and multiple training sessions. In a recent recruitment drive, Moustafa Khafagy, Blacklane's affiliate manager for the Middle East and Africa, told Arabian Business that only about eight out of 80 applicants made the cut. The main issues with drivers in the UAE, he says, include poor English, hygiene problems and unsafe driving. Blacklane's chauffeurs are required to take defence driving training. The rides also come with water, a newspaper, snacks and mints.
Wohltorf says that good service is critical, as there's a "willingness to pay" for quality in the region. "We're not that much more expensive than local ride-hailing or taxi services," he adds. "For example, from Dubai Marina to the airport must be about AED150 or so in a taxi or other ride hailers. For us it's about AED180... so 20% or so more but the quality is 100% more."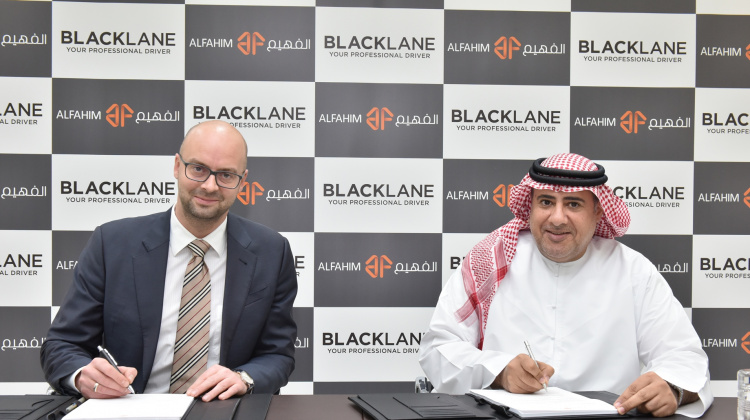 Future growth
The company says its global footprint is growing more than 100% year-on-year. "This region is probably twice as fast," Wohltorf says. "This, as well as some markets in Asia, is our fastest region in terms of growth." Before its deal with Al Fahim, Blacklane's UAE fleet, operating through local chauffeur service providers since 2013, counted "a couple of hundred cars", which included Mercedes, Audi and BMW vehicles.
Asked if ride-hailing companies like Uber and Careem, both major players in the region, ought to be concerned about Blacklane cutting into a piece of their pie, Wohltorf responds: "I think we're quite complementary. We're not serving small inner city distances. On short distances, nobody cares about quality."
"Now we're getting into the ballpark of over 1,000 cars and that's going to be growing two if not three times year over year," Wohltorf says, with plans to include more Mercedes of course by getting their providers better rates on the vehicles.
"We even had some Lexus cars but then figured it's not the right fit to the target group," he adds. "The most expensive Lexus isn't as expensive as the most expensive Mercedes. So there's still a difference in terms of quality but especially I think its reputation. They (our clients) feel better in a German premium vehicle than in a Japanese one."
In addition to corporates, business travellers and private individuals, Blacklane is eyeing more deals like the one it struck with Emirates. "Airlines is a very interesting spot for us," Wohltorf says. "This is just the start."
Chasing unicorns
Bestowing yourself with unicorn status despite being a relatively unaccomplished start-up is the mindset that's blocking entrepreneurs in the UAE from becoming the next big global success story, says Khaled Abdul Karim Al Fahim, board director of Al Fahim Group, one of the oldest and largest family business conglomerates in the region.
"My opinion is that they're thinking unicorn and they're still a startup," he tells Arabian Business when asked why global tech giants aren't coming out of the UAE. "They've got the mental state wrong. They're not thinking and operating like a startup. You need to live, eat, drink and sleep your product."