Arriving on a sun-baked afternoon to Air Arabia's headquarters, located just down the road from Sharjah International Airport (SHJ), Aviation Business got the chance to sit down with Adel Abdulla Ali, Group CEO, Air Arabia, and delve into the evolving dynamics of the low-cost carrier (LCC) market.
A long-standing and reputed veteran of the Middle East's aviation sector, Ali was not only instrumental in the LCC's formation back in 2003 but is also credited as being the driving force behind the carrier's ongoing
success story.
With Air Arabia reportedly achieving profits for eight years in a row, the impact of Ali's leadership and strategy were felt all the way into the 2017 year.
"Last year was a good year for us. The airline has been profitable since its original startup and since 2007, when we privatised and went to the stock market, it has been good. Also, 2017 was a record year," explains Ali.
"We recorded 30% up on 2016, a total of $180m … The company has been publicly listed for 10 years and I think in 2017, it was the second time that dividend was another 10% to the public."
The positive progress of the low-cost airline has also carried over into 2018. In the first quarter of the year, the low-cost carrier recorded an 8% year-on-year increase in profits that reached $27.8m, as well as a similar 8% increase in revenues that reached $238m.
Between January and March 2018, Air Arabia carried more than two million passengers, which was reportedly in line with the record number of passengers who travelled with the airline in 2017. During the same period, the airline's average seat load factor reached a high of 80%.
The first quarter also saw the addition of several new routes by Air Arabia to its hubs in both UAE and Egypt. From its base in Sharjah, Air Arabia added a route to Sheremetyevo International Airport in Russia, while in Egypt, the carrier added routes to Jeddah and Kuwait from Sohag International Airport.
"The strategy of the airline, any airline, would be really the same. You want more aeroplanes and airports to fly to and more people to carry. This year has not been any different. By the third quarter of the year, we will receive four additional aircraft," explains Ali.
"We will be flying to at least three new airports. The next one is in Qabala in Azerbaijan."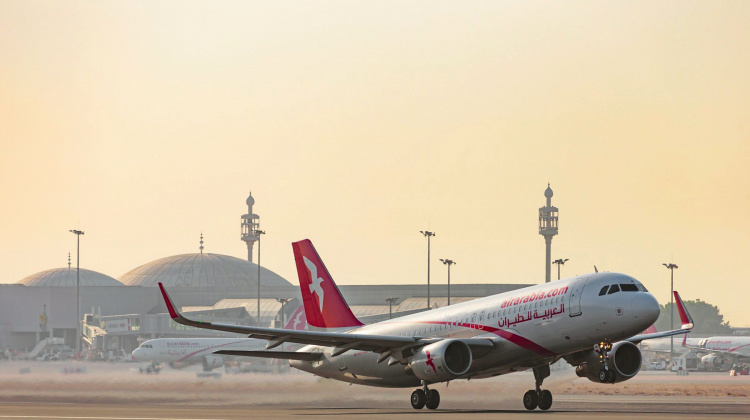 In terms of the incoming aircraft, which are expected to be Airbus A320s, the Group CEO shares that one will be tasked to its hub in Egypt, while another will be sent to Morocco. The remaining two will be stationed at Sharjah International Airport.
"We do everything in-house. We've got our MRO services — full maintenance capabilities in-house. Facilities are adequate to continue the growth of the business. As we continue to receive more aeroplanes, we will expand those facilities," comments Ali.
"Also at the base, we got here in Sharjah, which is our largest, the airport is due for expansion … the government has already allocated AED 1.5bn as an airport expansion plan. The airport currently has 11 million passengers that pass through every year. Once the facilities are completed that figure will rise up to 22 million."
In terms of its talent base, the airline has also invested substantially to provide a training outlet to which it generates much-needed industry talent.
Working closely with the Alpha Aviation Academy, which is based at Sharjah International Airport, Air Arabia has invested not only in the training of pilots, which remains a key industry challenge across the globe but has also committed itself to foster engineering talent.
Over the last 24 months, Air Arabia has also expanded its office facilities to almost four times the previous capacity.
"Our business model is all about service and efficiency. And both of these things, you need to train professionals to do it right. It just does not happen unless you guide and train people," explains Ali. 
When pressed about the current challenges faced by the Middle East's aviation sector, the Group CEO notes that there are shared obstacles between both major airlines and LCCs, such as the need to secure and maintain the right level seat occupancy on flights.
Additionally, airlines operating in the region have to contend with an environment that is often driven by ever-changing aeropolitical policies, the result of which has pushed demand for a wider Open Sky policy.
Pointing to the positive model of the European market, Ali shares that the open relations in terms of aeropolitical policies in Europe has not only helped the market's development but has also motivated people in the region to travel more frequently.
"In the Middle East, Indian subcontinent, North Africa, I think that while in the last 10 years, it has liberated quite a lot — it has progressed quite positively — what we want to see is a complete Open Sky. This will help develop the business and create more jobs. It will help improve cities that people are not allowed to fly into," comments Ali.
"UAE is a good example of that. UAE has always operated on an open sky policy and as a result, while the country is not a very big country and the population is just around 10 million, you have four large airlines active here. Aviation here is extremely successful."
The Group CEO adds that there are still a number of countries in the Middle East that are focused on protecting their national carriers and are opposed to an Open Sky policy. This, in turn, can lead to lost business for the country, the airline active there, as well as the people.
If instead, the type of policies developed by countries such as UAE, Kuwait and Lebanon are allowed to flourish across the Arab world and Indian subcontinent, Ali believes, "the industry will improve a lot".
Compared to other regions, however, the Middle East market has its own draws that set it apart. One example is the 24-hour operation of airports, an uncommon practice in some parts of the world. This small difference can have a dramatic impact both for the convenience of travellers in choosing when they travel, as well as how airlines maximise the use of their aircraft.
"We should not underestimate the young population that we have in the Middle East. A young population means you have potential future customers, as well as future employees," says Ali.
"Obviously Europe is ahead of us for example on technology at the moment and the use of technology. But looking at the speed that technology is being adopted in our part of the world when you marry that with a young population that we have, I see in a few years' time, we will do extremely well with using technology. Everything we do in the industry and outside the industry."
On that particular front, the low-cost airline has over the years invested significantly in expanding its online reach, digital capabilities, and even maintains its own specialist team dedicated to researching and deploying the latest technologies.
While it was previously the case only 10% of Air Arabia's business was generated through a technological medium, today, more than half of the Group's business is garnered via technology.
The Group CEO also pointed out that Air Arabia's loyalty program is completely built onto an online application.  Mobile-friendly and easy to use, the interface of the app is totally seamless and free of human interaction.
"We've got a much higher percentage from our Moroccan hub because we operate Europe and North Africa. Here in the [GCC] region, we find it is moving from what it was — a single digit — to now where we have about 30% of our business using online and OTAs, away from the traditional purchasing systems," explains Ali.
"The technology is changing so fast. No matter how much you are ahead of it, you still got to continue to work with the next phase of it … the customers of now and the future, they don't want to deal with people. They don't want to be hanging on telephone lines for long. Particularly the young generation. They know exactly what they want from a product. So you've got to be there and available on all the possible media, apps, and gadgets."
Discussing the airline's next steps and its future place in the market, Adel Abdulla Ali shares that Air Arabia will continue to expand its presence across the MENA region and beyond. Equally important for the publicly-listed company is the ongoing search to identify novel opportunities ripe for investment.
"It is important that we look for an opportunity that we can invest their money, as safe as possible and as best return on investment that we can get for them. Those things always make us look at what opportunities exist," says Ali.
"The business model that we run albeit it started here in the UAE, in Sharjah, we believe that it has been successful and well-received in Europe and North Africa — well-received in Egypt. There is no reason for us to believe that it will not be received well in the rest of the Arab world. As of when the opportunity comes," he concludes.