For the last 18 years, the Airport Show has served as a platform dedicated to the latest developments in airport operations, products and services. Each year, the annual business-to-business exhibition draws thousands from across the world, who come together for the opportunity to discover the latest airport-related technological advancements, connect with aviation industry professionals and international suppliers, as well as participate in debates around emerging aviation trends.
Following a hugely successful 2017 outing, expectations are quite high for the 18th edition of the exhibition.
According to Reed Exhibitions Middle East, organiser of the event, last year's Airport Show brought in over 7,500 attendees, 350 exhibitors, and also featured 10 international pavilions. Over 90 countries were represented amongst all those who participated and attended the event.
Hosted once again at the Dubai International Convention and Exhibition Center (DICEC), a number of new additions are set to be unveiled at Airport Show 2018.
"We're launching two new additions this year. The first is a dedicated platform for air traffic control (ATC) called ATC Forum, and the second is a dedicated platform for airport security called Airport Security Middle East," comments Daniyal Qureshi, group exhibition director, Reed Exhibitions Middle East.
"Both have conferences alongside them and hosted buyers. Also, we expect both events will have hundreds of delegates, who are coming from across the region specifically to meet companies related to these two sectors."
The group exhibition director adds that the dedicated platforms and their respective content are expected to boost turnout for the exhibition, 10% more than the figures recorded in 2017.
Furthermore, the content for both ATC and airport security will also bring into the spotlight the latest technologies in these fields. This includes advances in virtual reality and smart security solutions aimed at improving the passenger experience and operations efficiency.
In terms of country pavilions, Netherlands has for the first time opted to hold its own pavilion, while Denmark has almost doubled its presence from last year's event.
Aiming to better connect exhibitors with visitors to the show, the team at Reed Exhibitions have partnered with tech company Poken, who will be supplying their cloud-based event management platform at Airport Show 2018.
Each badge issued will contain an embedded microchip, which when connected with similar chips at each exhibiting stand, enables the visitor to receive data and contact details of the exhibitor, straight to their registered email. Data shared could consist of press releases, high-resolution photography, as well as information packets on product specifications.
At the same time, exhibitors will have access to real-time data and analytics on visitors to the stand, such as where is the individual based and which sector are they active in. The platform can also assist in the management of meetings.
"A lot of meetings are scheduled around hosted buyers, but sometimes they are late for a meeting. So what we are able to do as organisers, we can look at the schedule at the end of the day and see through the Poken touch points, which buyers have missed which meetings," explains Qureshi.
"This allows our team to more effectively use that information in real-time to ensure those meetings happen the next day, rather than those opportunities being missed."
One of the many exhibitors returning to the Airport Show this year is Frequentis AG, a company specialised in air traffic management, public safety, defence and public transport communication systems.
Present at the annual exhibition since its inception, Frequentis has for last five years, exhibited at the Airport Show alongside Bayanat Engineering, its local partner in the UAE.
"We'll be showing our voice communications systems and our remote virtual tower," says Paul Mayo, area sales manager, Frequentis AG.
"Our voice communications systems are a fully end-to-end IP system. They also support legacy interfaces which are analogue platforms still in use today. We also have a modern HMI system, which is completely touch-entry … in addition to voice communications, we also have our message handling system, which is handled by our Frequentis Comsoft subsidiaryi n Germany."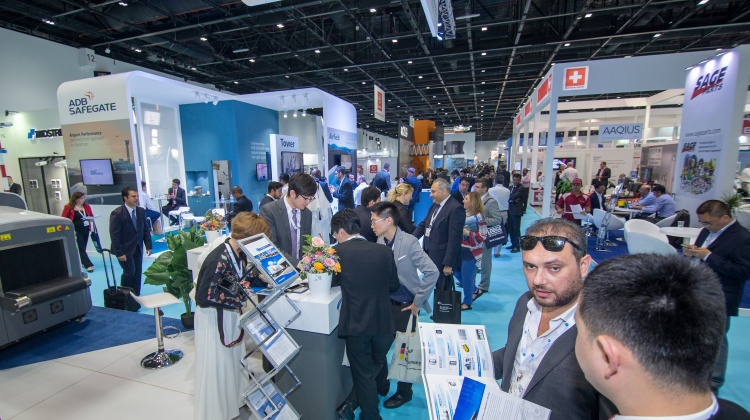 The company will also be showcasing its latest offerings in remote virtual towers, which provides tower personnel with the means to manage air traffic from a separate site.
Coupled with an onboard camera system, the platform is ideally suited for scenarios where the primary tower experiences a major power failure or fire hazard.
In terms of the Airport Show 2018, Mayo has high hopes for this year's iteration of the show, particularly with the new addition of the ATC Forum, which he expects will not only generate leads for his company but also interest for air traffic control.
"There is always the increase in traffic that is driving our customers. You look at Dubai — I think over the last year, they had a 7% growth in traffic. With that growth, there is always a need for better equipment and more efficient tools for air traffic controllers," comments Mayo.
"The expansion of Dubai World Central and Sheikh Ahmed's WDC 2020 initiative is also an important role in our customer's plans for the future. The goal, of course, is to transition Emirates' traffic to DWC. That will also provide some opportunities for our company and our products."
Another familiar presence at the annual airport exhibition is dnata, a globally recognised air services provider, who is expected to have a strong outing at this year's edition of the show.
According to Steve Allen, who serves as the divisional senior vice-president of UAE Airport Operations at dnata, the company is set to showcase its entire range of services for both airline customers and individual travellers.
"The show is a great place to promote our global products and services and meet with trade partners. In particular, we will be promoting our record-breaking Marhaba product, which made its name in Dubai and is now being rolled out globally," explains Allen.
When pressed on what airport-related trends he believes will come up during the exhibition, the divisional SVP expects technology and its application in streamlining the passenger travel experience will undoubtedly be a key focus area. This comprises the use of technology in the processing of passengers, baggage and cargo.
He also went on to highlight some of the current challenges faced by airport operators in the Middle East.
"One of the challenges in this region is having enough infrastructure to keep up with the growth in travel demand. In Dubai, for example, its success as an aviation hub means that we are faced with space constraints at Dubai International Airport, which is operating at maximum capacity," explains Allen.
"As the provider of airport services for both Dubai International Airport and Al Maktoum International Airport, we have had to be innovative in optimising our processes and resources in order to continue performing at the high levels we are committed to,"
he concludes.