As airlines continue to expand the global reach of their networks, as well as the size of their fleets, the need for more aviation talent is clear. In fact, according to the latest figures from Boeing's Pilot and Technician Outlook 2017-2036, the US-based aircraft designer and manufacturer noted that between now and 2036, the aviation industry will need to generate more than 2 million new commercial airline pilots, maintenance technicians, and cabin crew.
Of that total, the industry forecast of personnel demand predicts a need for 637,000 new commercial airline pilots over the next two decades. Ranking fourth in terms of global demand for pilots, the Middle East will need to generate 63,000 pilots.
The Asia Pacific region leads with a requirement for 253,000 new pilots, while North America and Europe require 117,000 and 106,000, respectively.
Last month, Abu Dhabi's Etihad Aviation group relaunched its flight training academy under a new name, Etihad Aviation Training (EAT). Previously known as Etihad Flight College, the rebranded aviation training organisation has now opened up its programme to external customers.While Etihad Airways has to date been the organisation's largest customer, the move has enabled EAT to tackle the rising demand for industry training worldwide, though the key focus areas will be the GCC, Europe, Indian sub-continent, Africa and Southeast Asia.
"We are fortunate to have our largest customer right on our doorstep, however in order to build our third-party customer portfolio we have installed a commercial team capable of taking our ATO to the next level," comments Paolo La Cava, director of Etihad Aviation Training.
"The real challenge lies in the long-term retention of the third-party customers that can only be achieved through flexible yet tailored products and a refreshed mindset of all the employees within EAT to focus on customer needs and requirements."
Based in two locations in the emirate of Abu Dhabi, EAT's portfolio of training products and services include everything from airline training to type rating, cabin crew safety, instructor training, and aircraft maintenance.
EAT's offerings also include Multi-Crew Pilot Licence (MPL) and Airline Transport Pilot License (ATPL) programmes, which are delivered through the company's Flight Training Organisation based in Al Ain.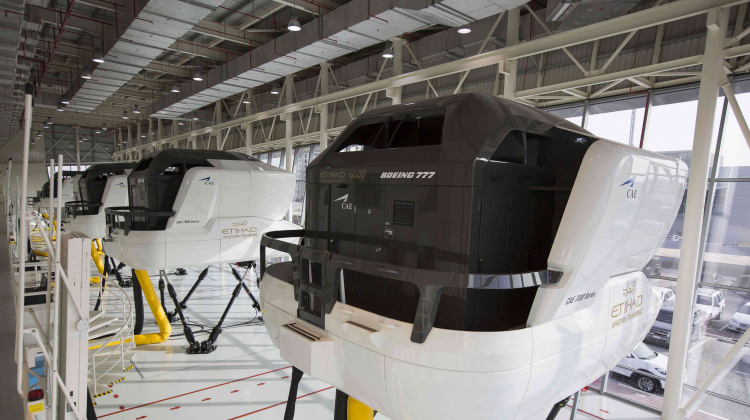 The organisation also offers a number of cadet packages, the most successful of which is the UAE National Cadet Pilot Training programme. To date, 231 UAE nationals have graduated from programme, 91 of who are active flight crew with Etihad. EAT's director shares that another 200 plus cadets are expected to graduate during the 2018 to 2022 period.
The flight academy has also continued to expand its capabilities, a recent addition to its portfolio is the Evidence Based Training (EBT) recurrent training programme that was implemented by Etihad Airways.
"All of the EAT instructors are qualified to deliver this training experience, the aim of which is to identify, develop and assess the competencies required by pilots in order to operate safely, effectively and efficiently in a commercial air transport environment," explains Cava.
"Fundamental to EBT is the concept of 'resilience'; the ability of crews to bounce back from an adverse situation and produce a safe outcome. EBT aims to improve pilots' resilience through developing the underlying competencies that assist in managing any situations they may face."
Another area EAT has looked at is increasing the number of flight simulators it has on offer. Currently, the flight academy operates 10 full-flight simulators, while an additional two devices are expected to be launched later this year. This will include the first Airbus A350-900 simulator and a third for Boeing 787-9 aircraft.
When pressed on his viewpoint on how pilot training had changed in the last few years, Cava notes the management of threat and safety events by pilots continues to be a key focus area. However, as it is impossible to effectively predict all potential hazards down the line, he asserts that modern training philosophies have prioritised, "the development and assessment of defined core competencies."
"Mastery of a finite set of competencies can allow a pilot to effectively manage any previously unseen potentially dangerous situation in flight. These philosophies use scenario-based events as a means to develop and assess crew performance across the range of competencies," explains Cava.
"Refocusing the instructor onto the analysis of the root causes of unsuccessfully flown manoeuvres in order to correct inappropriate actions. This contrasts with simply asking a pilot to repeat a manoeuvre with no real understanding of why it was not successfully flown in the first instance," he adds.
As one of the most recognisable professional aviation training and supplier of flight simulators firms in the world, FlightSafety reportedly provides more than 1.4 million hours of training each year to aviation professionals each year.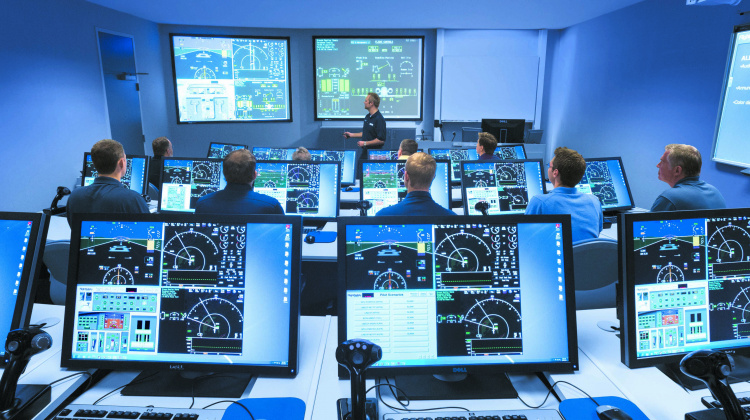 Offering 4,000 courses for 135 aircraft types, which covers both commercial and military aircraft, as well as courses for both fixed-wing aeroplanes and helicopters, FlightSafety reportedly operates a fleet of 320 flight simulators.
"Since our core business is training, the simulators we build are designed in accordance with our expertise in instructional technology. This enables our instructors to consistently deliver training that is tailored to the specific needs of our customers and is focused on enhancing safety," explains Steve Gross, senior vice president of Commercial Sales at FlightSafety.
"FlightSafety has designed and manufactured more than 800 simulators and 1,000 visual systems for use at our Learning Centers and by other commercial and military organisations. This includes simulators for 80 different aircraft types in the past five years alone."
Highlighting the company's own advances in pilot development, Gross shares that FlightSafety recently introduced a new approach to training called Operational Day Flow. Pilots who undertake the programme are introduced to all the required knowledge through a series of defined flight plans and city pairs.
The idea is that information related to procedures and tasks that pilots need to know are introduced by the phase of the flight, rather than introducing each system one at a time.
"Using Operational-Based Flight Plans that span the range and performance of the aircraft, the pilot adheres to FlightSafety's 'Train as you fly – fly as you train' concept in ground school that allows him or her to learn how to operate the aeroplane as they would in real life," explains Gross.
"Each initial ground school training period is delivered using a defined flight and city pair, with the instructor using Matrix, or other media toolsets, to demonstrate the procedure and tasks that are the training objectives for that phase of flight," he adds.
When asked about some of the latest developments for pilots operating rotary-wing aircraft, Gross added that advances in computer technology, such as faster processing speed and storage, have had a dramatic impact on their simulations.
He explains that it is now possible to create devices that feature photo-realistic visual displays, thus heightening the level of realism of the simulation.
Additionally, the development of FlightSafety's aerodynamics modelling and motion control algorithms have enabled the simulation of specific manoeuvres such as auto-rotation. Improved ground reaction models and objective motion cueing systems also help to produce a more accurate simulation of actual handling characteristics.
Of course, maintaining flight efficiency and safety continues to be a challenge long after the pilots exit the simulators and graduate from flight school. In fact with the new wave of digitalisation sweeping across the sector, there is a rising demand for new technologies that will be able to help both pilots and ground teams to better evaluate flights and make performance adjustments where necessary.
Enter CEFA Aviation, a specialist in flight data animation software and services. At the core of the company's offerings is CEFA Flight Animation System (CEFA FAS), a platform that is capable of creating highly detailed and accurate animations based on data from aircraft flight recorders.
Since its inception, CEFA FAS has been adopted by more than 80 airlines across five continent. The platform is even utilised by investigative authorities, such as The Bureau of Enquiry and Analysis for Civil Aviation Safety (BEA), who utilise the software to examine flight incidents in greater detail.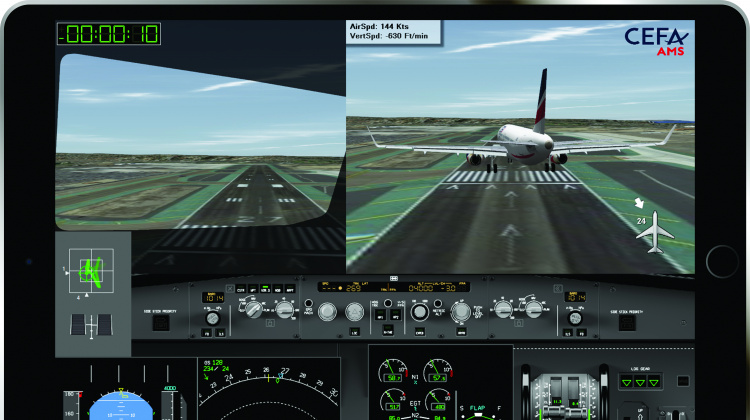 "We offer highly realistic type-specific cockpit representations, including customer-selected avionics displays and controls, for more than 30 types of commercial aircraft," explains Dominique Mineo, CEO & Founder, CEFA Aviation.
"This includes everything from turboprops like ATR 42/72 and Dash 8, to the newest generation of aircraft like Airbus A320 neo, A350, Bombardier C Series, Embraer E-Jet E2 and Boeing 737 MAX and 787."
One of its more recent launches, CEFA Aviation Mobile Services (CEFA AMS), which was unveiled last year during the Dubai Airshow 2017, enables pilots to replay their own flights right after landing.
Accessible on any authorised mobile device, the Cloud-based platform can be used by pilots to examine their flights with both detailed info pulled from the flight data, as well as a visual representation of the entire trip. This way, the pilots can examine their responses at different points during the journey, making adjustments to their performance as necessary.
"CEFA AMS can also be used between experienced and young pilots to share their expertise and know-how, for instance on a new approach to a difficult airport. Having a visual tool to exchange on a good take-off rotation rate can contribute to avoiding tail strikes, which represents many costs for airlines," adds Mineo.
All Nippon Airways (ANA) served as the products launch partner back in November 2017 and has already found favour with their pilots. An internal survey by found that 88% pilots reported positive feedback to CEFA AMS, citing the platform's usefulness in performance review and safety enhancement.
It is tools like the CEFA AMS that Mineo believes will be invaluable in how pilots of the future will be trained.
"With the rapidly growing need for new pilots in the world, pilot training definitely needs to be efficient as well as more and more adapted to individuals, to their existing skills," explains Mineo.
"We agree with the position paper issued by the Flight Safety Foundation in March this year, saying that a data-driven approach to pilot training is an essential element in continuing to improve the industry's safety performance.
"Digitalisation allowed CEFA AMS to be developed, as pilots now have tablets in the cockpit. But it is also essential to remain easy to use and to understand in order to get pilots motivated by using the new digital tools that are developed," he concludes.